Jura Z6 Aluminium Automatic Coffee Machine
Sold out
Original price
£2,195.00
-
Original price
£2,195.00
Premium enjoyment with professional technology
Full aroma thanks to the astonishingly quiet Professional Aroma Grinder, exceptional barista variety thanks to optimised fluid system and an operating concept that combines simplicity and intelligence – the new Z6 promises supreme coffee experiences.
The Professional Aroma Grinder delivers a consistently flawless grinding result, state-of-the-art brewing processes allow the coffee aromas to fully develop and trend specialities are prepared to perfection and topped with airy, feather-light milk foam thanks to fine foam technology. The Z6 impresses by offering 22 specialities at the touch of a button and its newly developed fluid system allows even long, delicious barista specialities and espresso doppio to be created in top barista quality.
Professional Aroma Grinder
12.2%* more aroma and consistently high grind quality over the entire service life are the defining features of the Professional Aroma Grinder. The perfected grinder geometry achieves the optimum grinding curve. So: A higher proportion of fine particles in the grounds guarantees that the flavours unfold to perfection.
*Professional Aroma Grinder compared with conventional grinders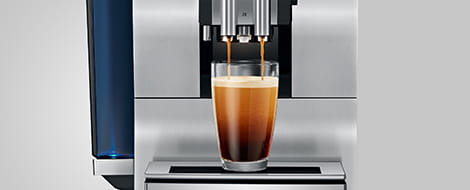 Barista specialities
The newly developed fluid system enables barista specialities of the highest quality to be prepared. Just like in the world's best coffee shops, hot water is mixed with the coffee automatically after extraction. The result is full-bodied, delicious and easy-to-digest long specialities.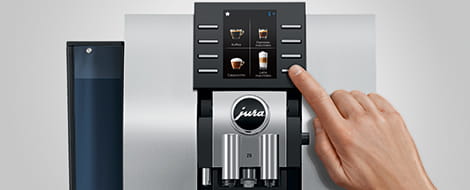 Artificial intelligence
With the Z6, artificial intelligence is finding its way into the operation of the machine. The coffee machine identifies the personal preferences of every household and adapts the start screen on the 3.5" TFT display automatically. This makes the Z6 as unique as you are and means that operating the machine is even more intuitive.